Reviews from Adult Classes
‪"5 stars! Couldn't wipe the smile off my face the entire time we were drumming at the Embrace Life Festival yesterday. Thank you!" Cassie Giblin – student
---
‪"What a fabulous year I've had with Earthen Rhythms! The [corporate] performance we did at Salas for the Jungle – themed party was incredible, with the fog – filled stage and the life-like animal statues. Our drumming certainly added to the atmosphere.‪ Drumming in the Newcastle Mall for 'Run Newcastle' was also a buzz, with Newcastle's fittest and finest gliding past us wearing a smile, or crazy costume, or even stopping for a quick dance.‪ Finishing the year with an excellent gig at the Junction Markets, hyping up the Christmas shoppers and even jamming with a French horn player and accordion muso, for an African/French spliced sound.‪ Mega thanks to you Benjie for all the fantastic classes, performances, events and bringing like-minded people together." – Michelle Ryan – student
---
"Loved my first class! Thanks Benjie and Anna ;)"
Maree Edwards – student‪
---
‪"This is the fun drumming class with Benjie."
Carrie Ann‪ Josh Halloran – student
---
‪‪"I have to say…
‪Tonight's class was EXCELLENT!
‪ So challenging, exciting and educational/ informative. I couldn't even wait to get home to post it (I'm in the car).
‪ Awesome work Benjie Williams. 
‪Thank you."
Camille Meaney – student
---
 "5 stars – Benjie had us all smiling and captivated at the Embrace Life Festival yesterday. The drumming workshop was so much fun!!"
Carly Maree – student
---
"What a fun night the Community Drum Circle was! So many people turned up and it was great to see family members and friends of the djembe students tap into their muso side and create a wall of interesting percussion sounds. Lara kept our bellies happy with her gorgeous cake counter and pot of chai tea. Benjie conducted our musical progression with flair and his cushion dance was highly entertaining. A mega thanks to Benjie for organising the drum circle and everyone else who added the fun". – Michelle – Student
Reviews from Corporate Drumming Clients
"Excellent, energizing workshop today with Earthen Rhythms. We've been looking or the right activity to revitalize the team and drumming was perfect.  It brought everyone into the moment in a fun and uplifting way".  –  Chau Duncan  – Executive Manager CFS CommBank Gold Coast
---
"Talk about creating a bash to remember! Earthen Rhythms came onto the stage with a bang and set the tone for our event with a powerful, emotive and exciting performance that certainly got everyone's attention. If you're looking for a creative, innovative and thrilling addition to your event program, we would highly recommend Benjie and his drummers." 
– Danielle Morris, Morris Walker Pty Limited (acting on behalf of the Australian Taxation Office).
---
"Thanks for a wonderful performance last night. Your energy was infectious."
– Jo Bright, Evolution Advisers
---
"Also wanted to thank you so much for making our staff farewell such an enjoyable and successful afternoon.  People are still talking about it and they all highlighted that the drumming was the best.  So thank you so very much for making it special."
– Helen Marquez, Program Manager Community Services – Newcastle Mission Australia
Reviews from Schools Drumming Incursions
"Just wanted to let you know how FANTASTIC Benjie was today with all the kids!!! He was so amazing and they all had the best time… so did I! Couldn't stop grinning and laughing …. The look on the kids faces were priceless…. they loved it and one boy continued drumming on a stool in the classroom when we went back up "
– Tess Campbell –   Boolaroo Public School
---
"The kids LOVED the African Drumming! Benji was a fabulous presenter/tutor and the children really enjoyed the "hands-on" aspect. They all joined in and had a fabulous time"
– Merena Mclaren – Bolwarra Public School
---
"Thanks so much for that Benjie and thankyou again for visiting us last Wednesday. I was so impressed with how enthusiastically the kids participated and it was obvious how much they enjoyed the workshop. Your rapport with the kids was just wonderful too! Such a lovely, meaningful way to celebrate Harmony Day!!! Thank you!"
– Kylie South –  Relieving Principal, Mount Kanwary Public School
---
"We all had an amazing day! Your energy and enthusiasm are still being commented on in the staff room.
I will be sure to contact you again next year, either for Harmony or Autism awareness day. "
– Amber Cook – Dungog Public School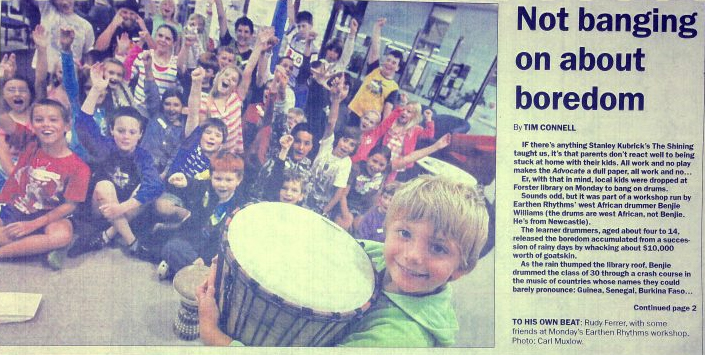 Reviews from Pre-school Drumming Incursions
"The Earthen Rhythm workshops have engaged the children and Educators alike in a positive, interactive learning experience. The music of the drum and voice is infectious. The children have the opportunity to play their own drum with enthusiasm, creativity and confidence. We love having Benjie visit and bring with him the rhythms of West Africa."
– Tanya – Samaritans Early Learning Centre Newcastle.
---
"We have had the pleasure of Benjie bringing his Earthen Rhythms African drumming experience to our preschool for several years now. The children always love this hands on experience and drumming has proved so popular we have even purchased a few djembes for preschool. Benjie shares his love of the music and the children always enjoy getting involved – drumming, dancing and singing!"
– Karen Hugo, Director. KU Mayfield Preschool
Reviews for Special Needs Drumming
"Incredible, the results we have seen through drumming. One of our clients has regained her self-esteem and confidence. With the support of her parents, she has moved from the Mental Health Ward to her own flat and continues to open up day by day."
Vicki Weller – Mission Australia.
---
"Benjie was here for three days, and we've seen a fantastic level of engagement. The workshops integrated key elements of listening, respect and positive choice – making.  There was a real sense of excitement and working together. We finished the workshops with a performance at our end of year Award Ceremony in front of families, friends and community dignitaries. It was enthusiastically received and WIN News were there to capture the event. We have already booked in for next year."
Peter Ellison – Kandeer School 
Reviews for Community Drumming Events
"I just wanted to say THANK YOU! My 2 daughters and i LOVED your class at speers point park on Tuesday.. I dont know what you did but I have not been able to get the beats out of my head and now every song that i/we've listened to I've been hearing the pi-zza-oh-i-love-it.. and-more-cheese.. toot-toot-im-in-my-car and getting the girls to hear it lol" – Sarah
Reviews from Weddings & Birthday Drumming Performances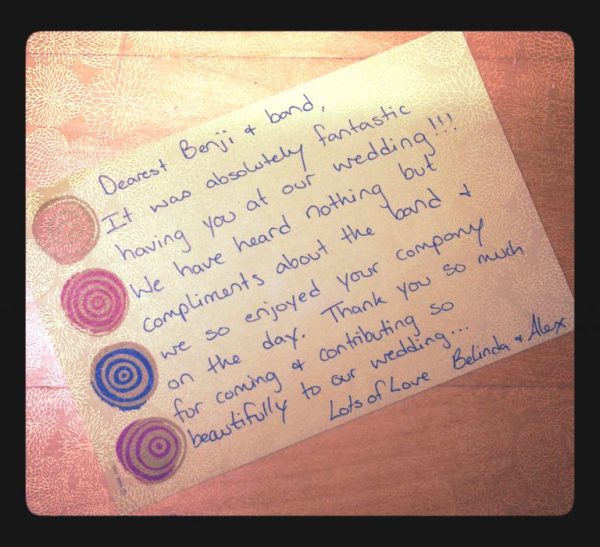 "Have to let you know that your group was a huge success at Truman's show. Everyone still talking about you. The Club staff said their patrons all asked what was happening – they loved you.  Hope you get some gigs from it.  Please let me know when and where we can see you perform and I will spread the word."
– Denise Croft
Bookings
To book an event please contact us.
(Email) africandrumdance@gmail.com or
(Ph) 0407 177 564