Supercharge your workplace through rhythm!
Sydney | Melbourne | Brisbane | Newcastle |
Hunter Valley | Wollongong  | Central Coast
Why use group drumming?
Powerful connections can be made through music. Collaboration is our superpower, and drumming can help unleash human potential through rhythm.
We create real team building experiences that can help break the ice, focus a teams attention, create dialogue around specific goals or topics. Group drumming can untie a team through a fun, interactive experience that everyone can enjoy.
Connect through rhythm, unite as a team
Energisers
Team Building
Wellness and Stress Relief
Christmas Parties
Retreats
Social Functions
Milestone Celebrations
Rhythm is the new path to Wellness!
There are so many reasons why drumming is good for you…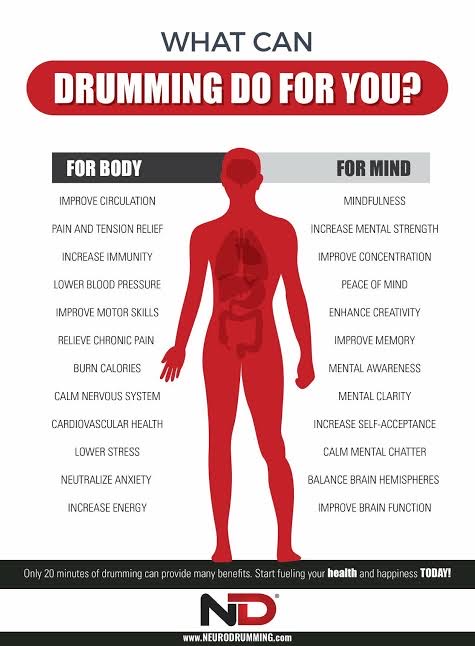 Motivating. Uplifting. Mindful.
Connect, unite and inspire everyone with the power of rhythm.
From the moment that you walk into the room, the bass beat hits you. You're senses ignited.
See, feel and join the vibrant rhythm and be transported to another world! It's a world of fun, excitement and connection. Each team creates the rhythm as the music carries them to a world of fun, excitement and collaboration.
With 22 years experience, you're in great hands with our seasoned drumming and rhythm facilitators.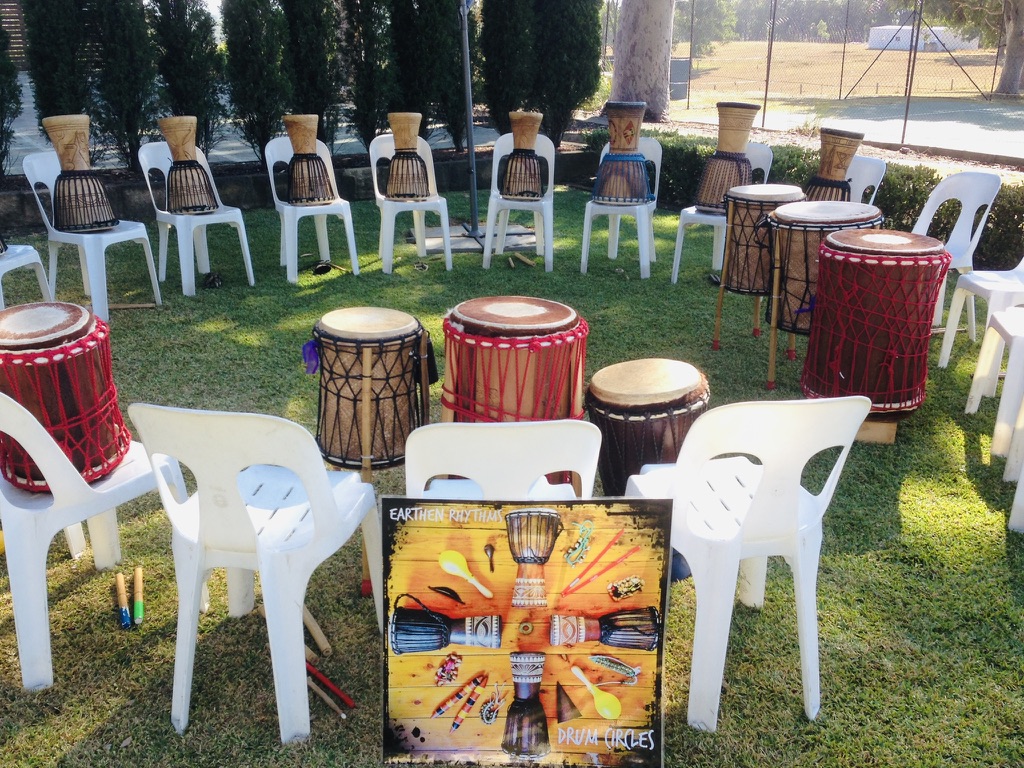 Unique Rhythm Experiences
Tailored to your needs. We deliver reliable and proven results.
Workshop Length: From 10 minute icebreakers to 50 minute workshops. We've got you covered.
Do you want to focus on fun and uplift? Yes!
Do you want to focus on collaboration and unity? Yes!
Or, focus on wellbeing and social inclusion? Yes!
What about goals and target setting? Yes!
What is your focus?
Certified Leadership
We are GLOBALLY CERTIFIED – by VILLAGE MUSIC CIRCLES, USA

ENERGISE & UPLIFT ANY EVENT WITH EARTHEN RHYTHMS
Connect. Inspire. Unite.
We have a number of Performance Packages
1. POWERFUL PERFORMANCES
Details: Explosive short performance with the Earthen Rhythms African Drumming Band.
High energy drumming that will excite the crowd. Kick start and event, or just spice things up after lunch before the conference recommences. 2 to 5 performers. Roving or on stage. Create a Carnival in your workplace! What office doesn't need a conga line mid-conference?
Duration: 10 minutes to 30 minutes
Group size: any
Optional: Want audience engagement and participation? We can include everyone with some body percussion, traditional songs or African dance.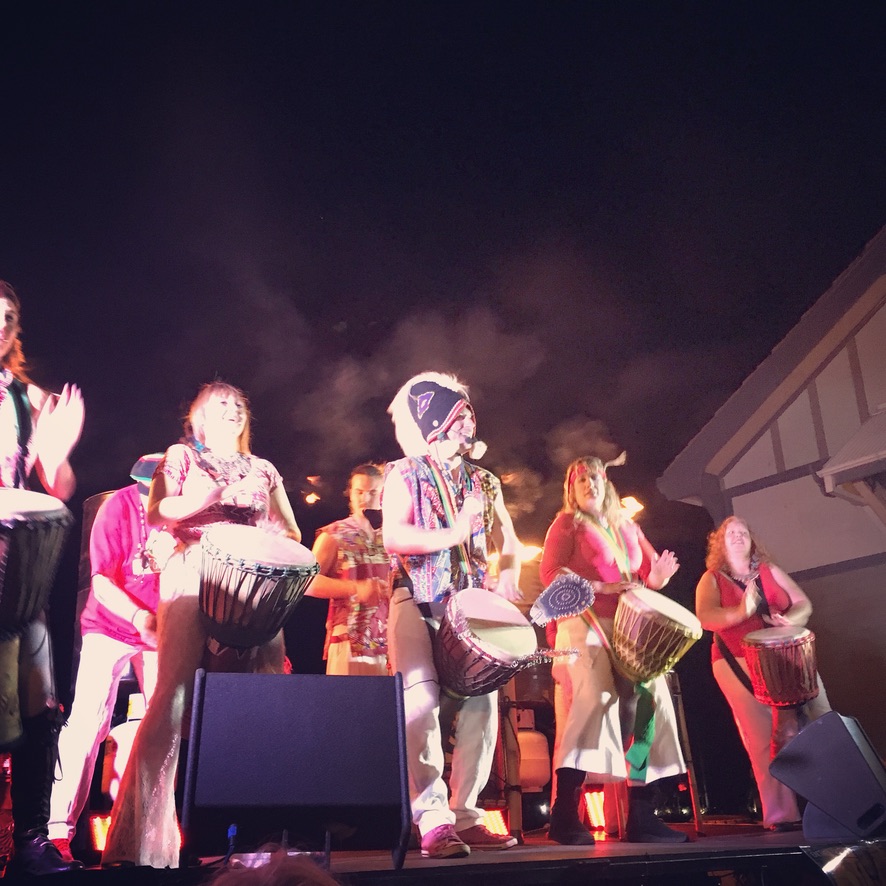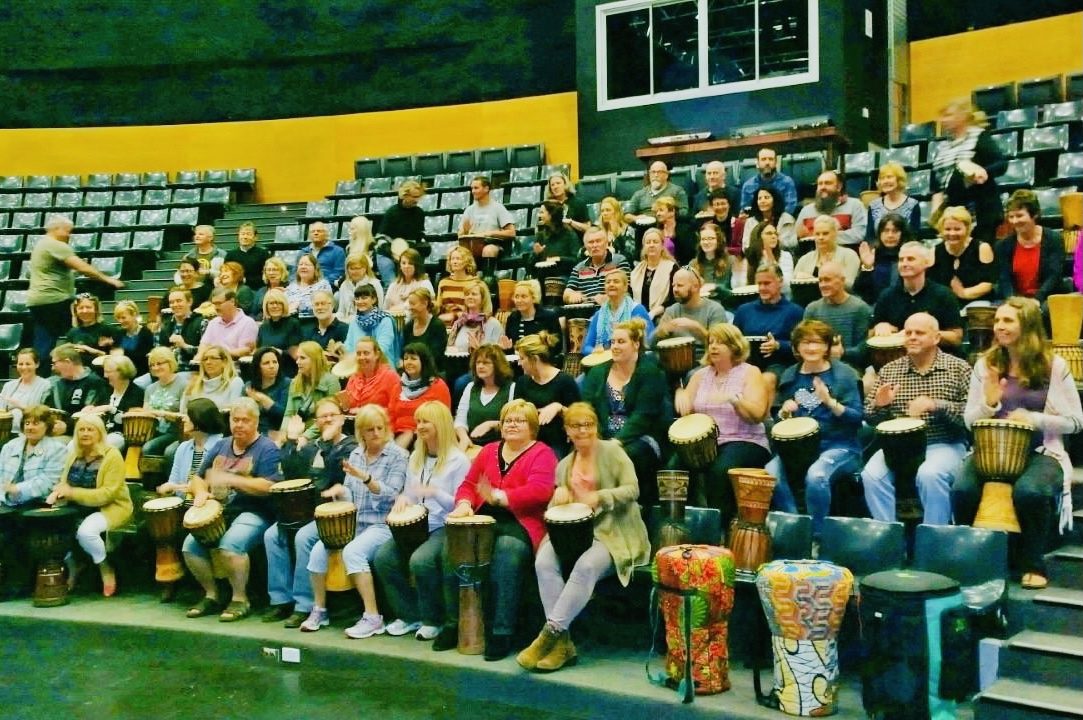 2. TEAM BUILDING DRUMMING WORKSHOP
Group Drumming – High energy group drumming experience that will transform your office!
Details: Experience the primal power of the djembe drum as its best! Feel the beat, join the rhythm, hear the song, connect to the tribe! This is a vibrant drumming workshop where everyone gets a drum and plays their part in the rhythm. This experience has transformed many office spaces into an all in fun, safe space for the team to play together.
See the excitement on their faces as the tempo increases, feel the rush of blood as the drumroll crescendos into a frenzy and the bass beat booms out is magic.
Great for team bonding, connecting, uniting and creating wellbeing within. Bring them together through the epic experience of rhythm.
Duration: 30 to 90 minutes
Group size: 10 – 100+
Optional: Activity can be supported by the Band to give a huge sound and presence to the event.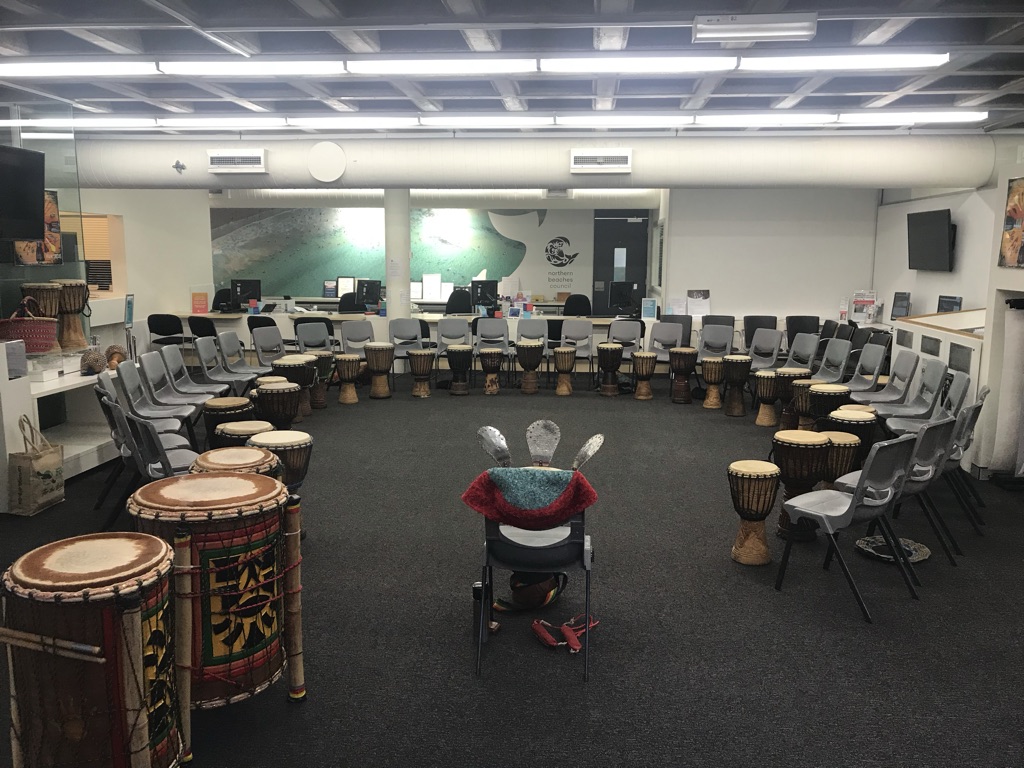 ADD RYTHM STIX
Energy charged Rhythm Stix workshop to the beat of the bass drum!
Details: A quick icebreaker, great for initiating dialogue in the workplace between colleges & creating social connections. Staff will love this collaborative rhythm game. They are part of the rhythm, move (or dance) around the room. When the beat stops, they pause and engage in conversation with co-workers. We start with questions that are light and easy, then continue to get deeper as the rhythm continues.
Duration: 10 – 30 minutes (30 mins recommended)
Group size: 10 – 200+
Optional: Activity can be supported by the Band to give a huge sound and presence to the event.
Tell us about your event.  Send us a email by filling in the fields below with the
Time,
Date,
Number of participants,
Location and
Intended outcomes.
Need more? Contact us –  info@earthenrhythms.org