What people are saying about our classes
Never felt so empowered and enthused. What an inspiring soul. Can't recommend this enough. Everyone should have a shot at finding the beat.
– Lissette Denise
Adult Drumming Classes
NEW TERM 1 – 2023 – 9 WK DRUM COURSES
REGISTRATIONS NOW OPEN!
ADULT AFRICAN DRUMMING CLASSES
NEWCASTLE | MAITLAND | PORT STEPHENS
Scroll down for more information about the classes and locations
"Playing drums and dancing together puts us in touch with a creative force that directly connects us to our own humanity" – Babatunde Olatunji
These dynamic classes will help you learn the art of drumming, relax and experience joy through the drum. Whether you are a beginner or advanced level wanting to be pushed to your limit, there is always something more to learn or experience.
Course Levels Differ:
Mon – Absolute Beginners
Tues – Mixed – Beginners and Intermediate
Wed – Intermediate +
Thur – Mixed – Beginners and Intermediate
Fri – Mixed – Beginners and Intermediate

Beginners will be introduced to the art of the djembe and Intermediate levels will be have their technique and ability extended. Each class hosts a full array of djembe, bougarabu, bell and dun dun patterns. If you fancy one instrument over the other let us know.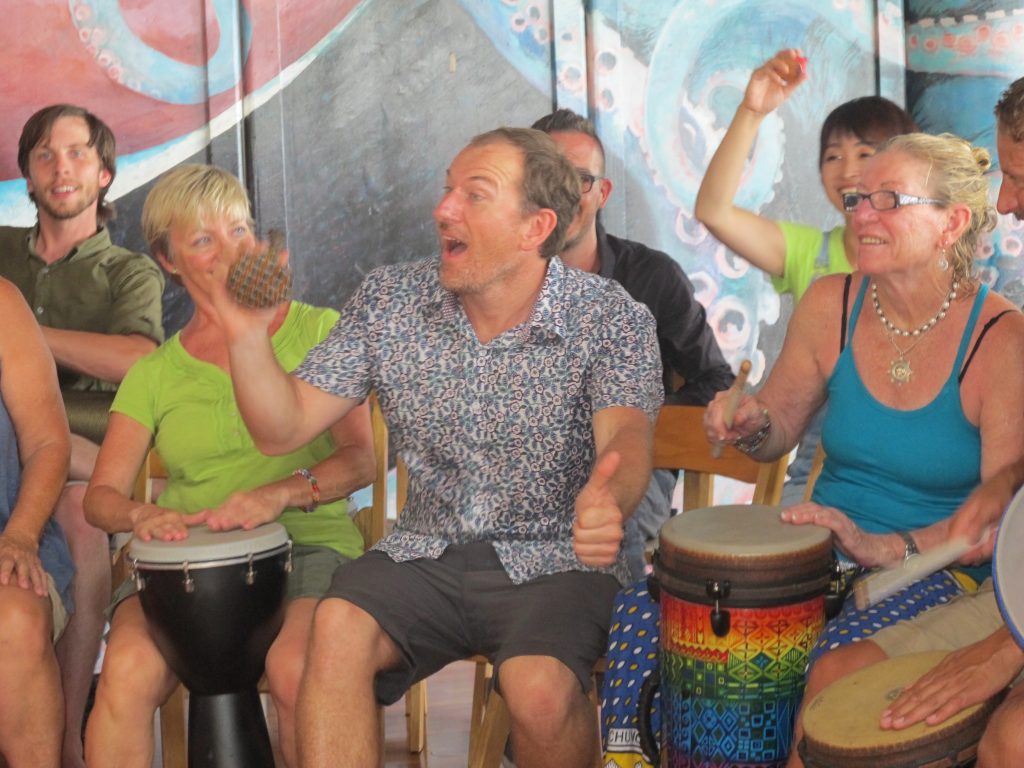 COST
Heaps of Fun! Low Cost & Great Value
Full Price – $225 (byo drum) – $249 (includes drum hire)
Concession – $190 (byo drum) – $215 (includes drum hire)
Please note that all online transactions incur a transaction fee (2.7% + 30c) and associated bank fees. See registration page for more details.
SIGN ME UP!
Scroll up to book in to a class.
Have any burning questions? CLICK HERE to read common questions that students ask.
Welcome to the Tribe!
WHAT TO EXPECT
Scroll down for information about our 9 Wk Courses
Note – All classes offered online for students outside the Newcastle area.
WATCH THIS SAMPLE OF THE COURSE VIBE!
WHICH CLASS SHOULD I CHOOSE?
Whether you are an absolute beginner or intermediate djembefola, we make it easy and fun!
By the end of the 9 weeks, you'll be able to play between 1 and 3 rhythms. And we encourage people to commit to the full 9 weeks. This way they see a progression and clear growth in their ability.
The 9 weeks is complimented by free notes and training videos to help improve your rhythm understanding.
Absolute Beginners
Focused on creating confidence in absolute entry level players. This class will help you get the basics, turning beats into rhythms. The class is a safe and fun learning environment that will support you in your understanding and rhythmical ability. Hire drums are available during class, so you need not worry about having your own drum. Just come with an open mind, loose clothing and be ready to play!
Mixed Beginners and all levels 
This class covers the basics and beyond. Completely inclusive, beginners will not be left behind and intermediate players will be find continual challenge.  In this mixed class you are part of  a safe and fun learning environment that will support you in your understanding and push your rhythmical ability. It is a deep dive into learning the art of the djembe.  No drum, no worries. Hire one of ours to play (in class). Just come with an open mind, loose clothing and be ready to live!
Intermediate +
Practice and study the art of the djembe with us. Complete rhythms, solos, phrasing and a large rhythm repetoire will challenge the competent drummer.  All while having fun. This class will push your skill and understanding of rhythms. It is designed to move much faster than the beginners, and reach into the cultural depths of each song, creating a full ensemble experience.
Slaps, tones, and bases are simple to understand yet difficult to play with clarity. In this class you will learn to play each beat with consistent precision and speed. This class is also a dynamic learning environment, using body percussion, mouth percussion (beatboxing), percussion instruments and dancing to support your growth in rhythm.
All rhythms are sourced from or inspired by West Africa, but we are inspired by universal rhythms and global beats of local and global rhythm masters and maestros.
Advanced
Need more? We are happy to train and support advanced players on an individual basis. Contact us for more information on how we can support you to become a master drummer.
Drum Circle Facilitation (DCF)
We incorporate DCF principles within all our workshops, honouring the spirit and elements of inclusivity, wellbeing, and connection. If you are interested to learn more about leading drum circles, click here to learn more. 
Rhythm Games
Each class is jam packed full of rhythm games for you to help your learning be fun and engaging.  If you are a drum circle facilitator (DCF) these are examples that you can use when leading your own drum circles or workshops.
TESTIMONIALS
"What a fabulous year I've had with Earthen Rhythms! The performance we did at Salas for the jungle themed party was incredible with the fog filled stage and the life like animal statues. our drumming certainly added to the atmosphere.
Drumming in the Newcastle Mall for Run Newcastle was also a buzz with Newcastle's fittest and finest gliding past us wearing a smile or crazy costume or even stopping for a quick dance.
Finishing the year with an excellent gig at the Junction Markets, hyping up the Christmas shoppers and even jamming with a French horn player and accordion muso for an African/French spliced sound.
Mega thanks to you Benjie for all the fantastic classes, performances, events and bringing like minded people together. Merry Christmas!"  
– Michelle Ryan
I have to say…
Tonight's class was EXCELLENT!
So challenging, exciting and educational/ informative. I couldn't even wait to get home to post it (I'm in the car).
Awesome work Benjie
Thank you.
–  Camille Meaney
Wow, wow, wow. Just home from a Drumming class in Maitland. I'd have to say that Benjie is the most genuine, patient and enlightened individual I've met in a long time. I think it's fair to say that I'm the worst and most 'unco' drummer he has had to date, yet he was patient and offered genuine support.If you're looking for something fun, inclusive and different, give it a go. You won't be sorry.
– Vicki Childs
Joining the Maitland class on Monday's is one of my BETTER ideas 

It's a GR8 fun night with wonderful people & Benjie is the best teacher you could have. I'm hooked 
 Come along & join us – you'll love it.
– Christine Gardner
Great fun at Living Smart Festival at Speers Point. Drumming Workshop with Earthen Rhythms was awesome. Thanks Benjie.
– Marilyn Anderson
Never felt so empowered and enthused. What an inspiring soul. Can't recommend this enough. Everyone should have a shot at finding the beat.
– Lissette Denise
Benjie would have to be the most patient person I know and his lessons are sooo much fun -thank you so much
– Anita Marshall
TERMS AND CONDITIONS
If you can't make any of the 9 weeks, please let us know asap, but be aware payments are non-refundable or transferable after week 2.
We Guarantee that you love it! IF you don't love it after the first class you can cancel before the second class and we'll refund you for the remaining 8 sessions.
Concession discounts for those who hold a Heathcare card, Pension Card , Students Card, etc. Concession Cards Must Be Presented.
Classes are subject to change and every effort will be made to inform students of these changes via email, website and facebook updates.
Drum hire is subject to availability
We reserve the right to cancel classes if minimum numbers are not met.
COVID UPDATE – We will be practicing excellent hygiene standards and social distancing. Please do not come to class if you have any flu like symptoms.
No Sample Classes or First Class FREE – please watch the video above or find one of our many free workshops at local community markets or events.