Ever wanted to make your own drum? Here's your opportunity!
Join us for a beautiful weekend of crafting your own beautiful djembe drum with Earthen Rhythms.
Learn the art of djembe making with the best quality products and materials. Discover what it takes to make one of these primal and powerful instruments.
The Drum Making is at the Earthen Rhythms Drum Studio, set in a a leafy garden over two beautiful two days. It will be focused, yet relaxed.  Think of a little tribal village crafting their goods…that's how it'll be.
Included FREE is a little private session during the weekend. We'll focus on techniques and sharing insights into the art of the djembe.
We also include lifetime tuning for FREE.
Dates:
Next Two Day Workshop:
9-4pm Sat 26th March 2022 and
9-4pm Sun 27th March 2022
Registration and Pre-payment essential.
Where:
Waratah, Newcastle, NSW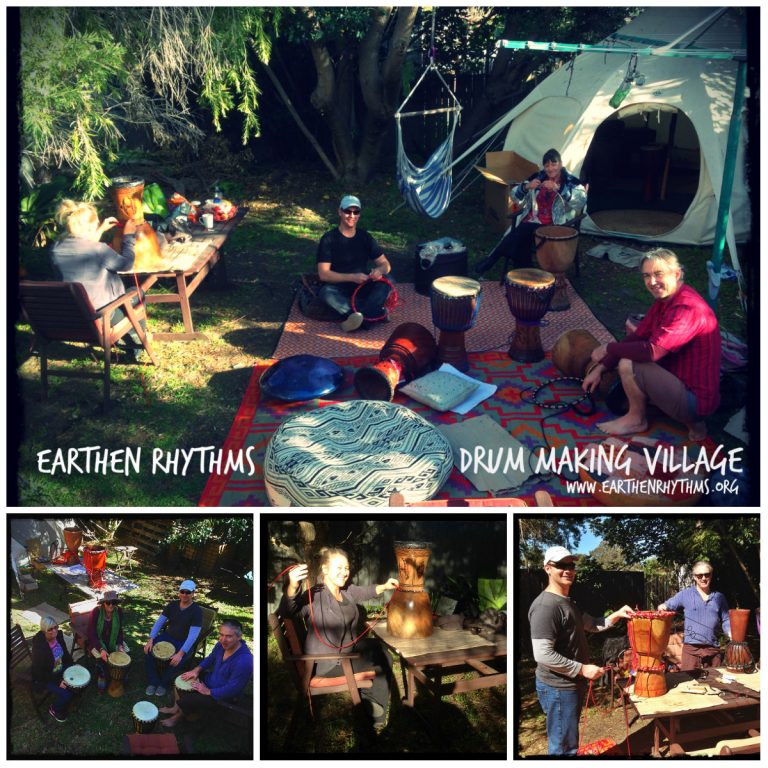 Drum Making Package:
Complete supervision from a professional drum maker during the entire process
1 x beautiful, personalised, full-size (13 inch), high quality djembe of your choice with goat skin and ropes. Finished with Organic Coconut Oil.
2 day village drum making session with light refreshments & snacks
Extra – 1 x Drum Circle Sample Workshop – Small group of 4-6ppl
Djembe Lesson and Drum Care Session.
Lifetime follow up tuning of Djembe Drum
Pull-string cloth bag
Cost:
From $550 –  Ghana Djembe Drum  +/- depending on your choice of drum shell and accessories.
From $750 – Top Shelf Guinea Hardwood Djembes – Excellent Quality – Brilliant Sound.
Optional extra accessories include:
Bags – SPECIAL – cloth bag INCLUDED in package for 2022 – usually $70
Canvas Bag – From $150
Practice hat – for a sneaky little practice near the neighbours – $25
Roving Strap – to carry your drum while playing – $35
Minimum Number of People: 4
Maximum Number of People: 6
Need more information? Please send us a message expressing your interest to make your own handcrafted African drum.
Looking for Drum repairs? We can also help. Send us a message with your details and the problem with your drum. Include the size and if possible, send us a photo.
Contact – info@earthenrhythms.org